Electric mobility Management Software
for Fleets, Residential & Offices
GEO LOCALIZATION - OCCUPANCY - ENERGY CONSUMPTION - CLIENT DATABASE - REMOTE CONTROL
CRM
Database
USERS management and cloud-based backoffice hardware agnostic.
Registration process and user management of EV charging network.
Our cloud-based platform optimizes the management of drivers and customers databases.
REMOTE
Operation
REMOTE OPERATION of chargers and overview of charging network.
Registration process and management of EV chargers.
Alarm management.
TAG management and inventory. Zoning to authorize certain users to charge in certain zones.
Management of privileges such as "drivers", "operators", "administrators" and "super-administrators".
BILLING
Finance
AUTOMATED billing and Flexible tariff to maximize charger return on investment.
Performance of each charger.
Income, expenses, profit.
Automated invoicing process.
ANALYTICS
Optimization
REAL TIME information for charge point operator and drivers.
Use and occupancy statistics.
By date, by zone and by user.
Management of locations (value of the EV charger in real time according to the traffic and other transportation variables of the zone).
Recommendation: increase or reduction of load capacity based on historical data and localization with respect to the traffic of the area.
Your easy and economical gateway to managing your charging points through our customized platform.
Gain flexibility as we can manage from one to 100 charging points.
Specially for professional services (medical architects, accountants or lawyers…), also for restaurants or small companies.
No monthly membership fee.
The most advanced economical and professionally managed charging points platform on the market top optimally operate your electric vehicle fleet.
Its monthly fee includes a wide range of possibilities from your cell phone app to the use of the Smart charging capabilities.
Millions of parking spaces are in prime locations and are underused for most of the time during the day.
1.- If you think that your parking lot has a privileged position for electric car drivers, call us.
We'll get your charger connected to the cloud and you will create your own clients. Start building community, but most importantly, start making money off your electric car charger.
2.- If you don't have a charger or electric car yet…
You can also earn money by installing a charger that your customers will use.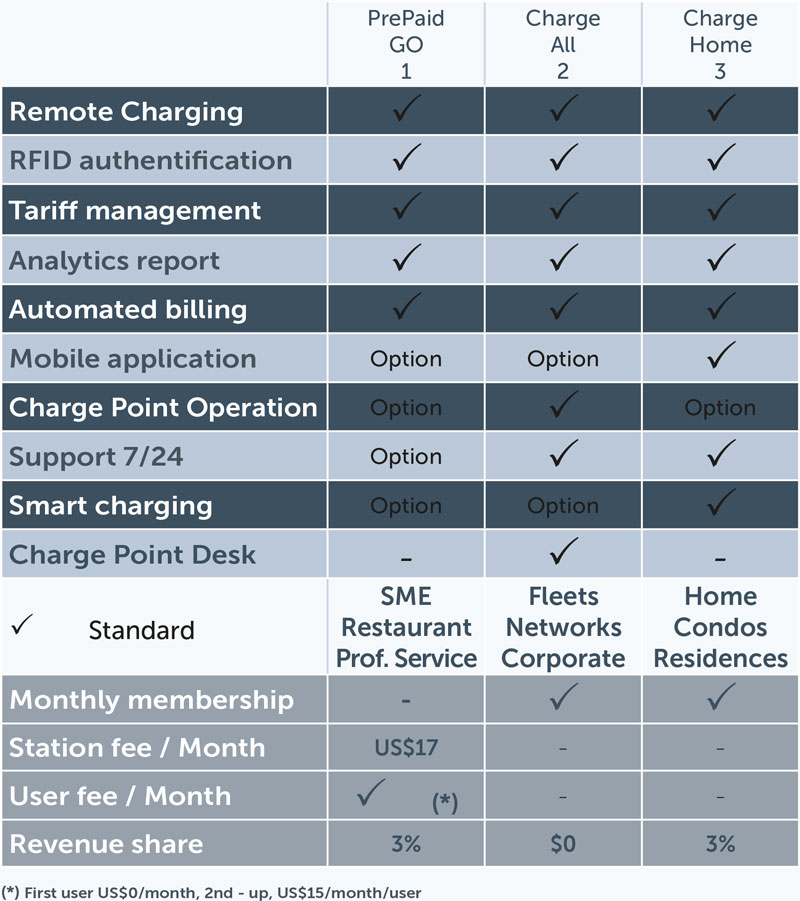 The existing companies in the market:
Are not inter operable:
CityVitae uses the universal and interoperable global protocol OCPP. With OCPP, ALL CARS can COMMUNICATE with ALL chargers.
Manufacturers sell THEIR own charger, which is not necessarily the most adapted solution to your needs.
CityVitae searches in the five continents and selects the best solutions of EV charger. We are neutral from the point of view of the technological solution.
The only thing we demand of ourselves is the highest level of quality recognized by the official certificates of the International Electrotechnical Organization in Geneva (IEC) and the American certification bodies (UL). The rest is defined by our client.
Current players struggle to gain positions near supermarkets or other points of interest.
They care little about your daily commute from home to work and from work to home.
Our CityVitae experience based on transport engineering can make us evaluate the location of your EV charger in the city in a scientific and reliable way, so you can quickly increase clients.
CityVitae's solutions make it possible for the user of small or large electromobility, individual or company, public or private, to INVEST and regain the investment quickly.
Using our ChargeHome platform, from only 0US $/month you can earn money with your charger in only 6 months.
| | | |
| --- | --- | --- |
| Todays' market for electric cars' chargers | CityVitae | The market |
| Inter-operability | Only interoperable solutions | No interoperability |
| Technology | Our independence from manufacturers allows us to always seek and choose the best quality from all the solutions available on the market. | Today's manufacturers sell their own brand adapted to their own constantly changing circumstances and market vision. |
| Localization | CityVitae is formed by transport engineers who are experts in urban mobility. Our localization techniques allow us to detect those positions in the city that are under exploited and that are not always near a supermarket or a point of interest. | Most companies struggle to gain a position in one of the shopping malls or parking lots in the city center. They do this neglecting what is the real need of the user in his daily journey. |
| Business model | CityVitae believes that the optimal way to grow the electromobility market is to provide the means for chargers to be not an expense but an investment. | Typical companies in the market sell chargers, sell charging session, sell operation or sell…. It is a short-term business model in which only one of the two sides win. |
MISSSATGES CLAUS




CityVitae Expert Services for New Urban Mobility
ChargeHome: your gate to profitable investments in Electric Mobility
CityVitae places electro mobility where others have not….
Investment instead of expense,
Interoperability instead of silos,
Easy, Practical and Convenient instead of complex and confusing
CityVitae changes the vision of electromobility: We make investment in electric mobility accessible to everyone.
The best solution to extend the (electromobility) community is to make EVERYONE win with its growth.
SME Restaurant Prof. Service
Fleets Networks Corporate
| | | | |
| --- | --- | --- | --- |
| | PrePaid GO 1 | Charge All 2 | Charge Home 3 |
| Remote Charging | ✓ | ✓ | ✓ |
| RFID authentifi cation | ✓ | ✓ | ✓ |
| Tariff management | ✓ | ✓ | ✓ |
| Analytics report | ✓ | ✓ | ✓ |
| Automated billing | ✓ | ✓ | ✓ |
| Mobile application | Option | Option | ✓ |
| Charge Point Operation | Option | ✓ | Option |
| Support 7/24 | Option | ✓ | ✓ |
| Smart charging | Option | Option | ✓ |
| Charge Point Desk | – | ✓ | – |
| ✓ Standard | SME Restaurant Prof. Service | Fleets Networks Corporate | Home Condos Residences |
| Monthly membership | – | ✓ | ✓ |
| Station fee / Month | US$17 | – | – |
| User fee / Month | ✓ (*) | – | – |
| Revenue share | 3% | $0 | 3% |