Electric Vehicle Chargers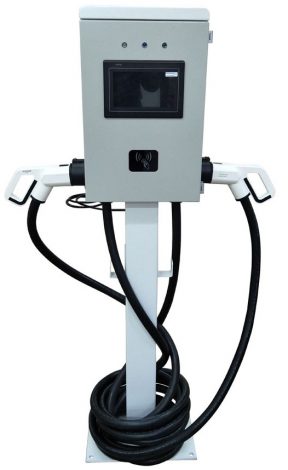 44 kW (+44kW) AC charging station
Public 44kW AC SAE J1772 Type 1 & IEC 62196 Type 2
44KW T1 OR T2 PUBLIC SPACE USE.
AUTO CONFIGURABLE SINGLE TO THREE PHASE AND 3KW TO 44KW (+44KW).
• Wall mount or pole standing. • 1 or two car charging. • Native OCPP client server. • RFID card, credit card payment system supported. • 4.3 inch touching display screen panel.
GENERAL PRESENTATION
ENCLOSURE
Steel with anti-corrosion treatment
DIMENSIONS (H xD x W )
450 x 350 x 200 mm
COLOUR
RAL on demand
WEIGHT
28 kg
IP INDEX
IP 67
SHOCK RESISTANCE INDEX
IK 10
TEMPERATURE
From -60 °C to 45°C
HUMIDITY INDEX
5 – 95%
COOLING
Fan cooling
CONNECTIVITY AND HMI
DISPLAY
4.3´´ display + Emergency Stop
USER INTERFACE
RGB LED band
COMMUNICATION PROTOCOL
OCPP 1.5 and OCPP 1.6
COMMUNICATION
3G, LAN
RFID
-ISO14443A/B/B'
-(Mifare, Calypso, Des re , NFC reader mode)
-Other features on demand
SETTINGS AND POWER SUPPLY
INPUT
VOLTAGE
220-380Vac +/- 15% 3-phase
FREQUENCY
50/60Hz± 1%
POWER FACTOR
>0.99 at >50% load
PROTECTION
-Integrated MCB and RDC 30mA
-Surge protector device (option)
OUTPUT
CHARGE POINTS
1 o r 2 charging points (single car use)
CONNECTORS
T1 or T2
VOLTAGE
220-380Vac ± 15%
CURRENT
80Amax
POWER
44kW (88kW with two plugs)
EFFICIENCY
99% three phase
POWER FACTOR
>0.99 at >50% load
• NFC 15 100 • EN 61000-6 • EN 61000-3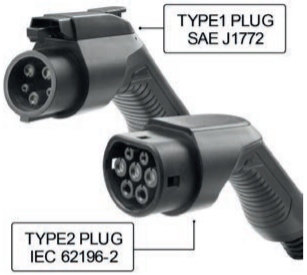 SINGLE & THREE PHASE AC CHARGER.
OUTPUT FROM 3KW AC TO 44KW (+44KW).
T1 OR T2.
EMERGENCY STOP BUTTON.
RFID PAYMENT SYSTEM.
INTERNET CONNECTED SUPPORT.
OCPP 1.6 SERVER MANAGEMENT PLATFORM