CityVitae Has Evaluated As Very Productive Its Participation In The Trade Mission To Colombia, Framed Within The Gold Key Program Of The Us Embassy In Bogota And Organized By Enterprise Florida, Inc. (EFI).
November 21st, 2019
Tallahassee, Fla. – Today, Lieutenant Governor Jeanette Nuñez highlighted her trade mission to Colombia, which took place from November 18-21. The mission delegation included 19 Florida companies with over 50 representatives from small and medium-sized businesses across Florida, including Mr Pere Francino, CityVitae's CEO. The export sales mission, organized by Enterprise Florida, Inc. (EFI), featured 19 Florida manufacturers and exporters that were matched with Colombian importers through the U.S. Embassy's Gold Key Program. The Lieutenant Governor also met with several government officials to discuss various economic issues and promote future opportunities for collaboration and trade between Florida and Colombia.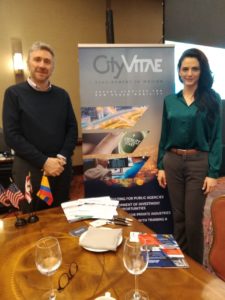 "This week, I had the pleasure of leading Enterprise Florida's export trade mission to Colombia and saw firsthand how they are expanding the Sunshine State's economy by developing new opportunities for businesses looking to enter global markets," said Lieutenant Governor Nuñez. "With our state accounting for 24 percent of all U.S. trade with Colombia, it is extremely important that we continue building on this vibrant trade relationship to ensure growth and prosperity for both."
"Florida-made goods and services are in high demand in the global marketplace," said Jamal Sowell, Secretary of Commerce, and President & CEO of EFI. "Thank you to Lieutenant Governor Nuñez for leading this important mission to Colombia. This week's efforts will result in exciting opportunities for small and medium sizes business in Florida and Colombia alike."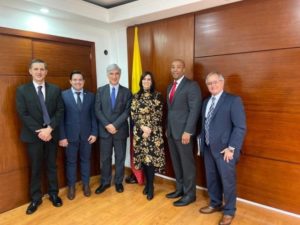 The mission included the following:
Tour of the Business Matchmaker Meetings
Lieutenant Governor Nuñez toured and met with the Florida companies participating in the U.S. Embassy's Gold-Key Matchmaker meetings
Four Meetings with Government Officials to Strengthen the Ties and Synergy Between Florida and Colombia
Lieutenant Governor Nuñez met with U.S. Ambassador to Colombia Philip Goldberg and attended a reception at his residence with the delegation
Lieutenant Governor Nuñez met with senior officials with the Ministry of Foreign Affairs, to discuss trade opportunities between Florida and Colombia
Lieutenant Governor Nuñez met with Laura Valdivieso, Vice Minister of Foreign Trade for the Ministry of Commerce, Industry, and Tourism, to highlight the vibrant trade relationship between Florida and Colombia
Lieutenant Governor Nuñez met with Juan Pablo Uribe, Minister of Health and Social Protection for the Ministry of Health, to discuss health-related topics and opportunities for possible collaboration between Florida and Colombia
Five Business and Trade Networking Events
Reception hosted by U.S. Ambassador to Colombia, Philip Goldberg, and sponsored by Holland & Knight and BankUnited
Networking business lunch with the Board of Directors of the American Chamber of Commerce of Colombia
Networking business breakfast with the Colombian Association of Women Entrepreneurs
Networking breakfast with the Florida delegation
Networking reception hosted by Enterprise Florida, Inc. with the mission delegation
With more than $4.4 billion of merchandise shipped in 2018, and growing by six percent last year, Colombia ranks as Florida's second-largest export market. The U.S. is Colombia's largest trading partner, and bilateral trade between the two countries reached nearly $29 billion in 2018. With $7 billion in two-way trade, Florida accounts for 24 percent of all U.S. trade with Colombia—more than any other state.
Enterprise Florida helps thousands of companies around the state enter and expand in global markets through nationally-recognized programs and services. Free export counseling is offered through a statewide network of six regional trade offices, while an extensive schedule of trade missions and trade shows helps companies enter and expand in new overseas markets.
https://www.enterpriseflorida.com/news/lieutenant-governor-jeanette-nunez-highlights-success-trade-mission-colombia/